Moving into your first home can be a complex and tedious process. You pack all your belongings into boxes and then unpack them, touching every single item that you own twice! Not only is it physically exhausting, you have to find a new home for everything.
Your boxes are unpacked. Your kitchen is already usable. Bathroom updates are next! You are ready to take the plunge (pun intended).
Every new homeowner needs these 10 simple bathroom update ideas to get started.
While I like to send you tidbits on what and where I buy my products, do know that if you click an affiliate link on this page and make a purchase, I may earn a small commission at no additional cost to you. See my disclosure policy here.]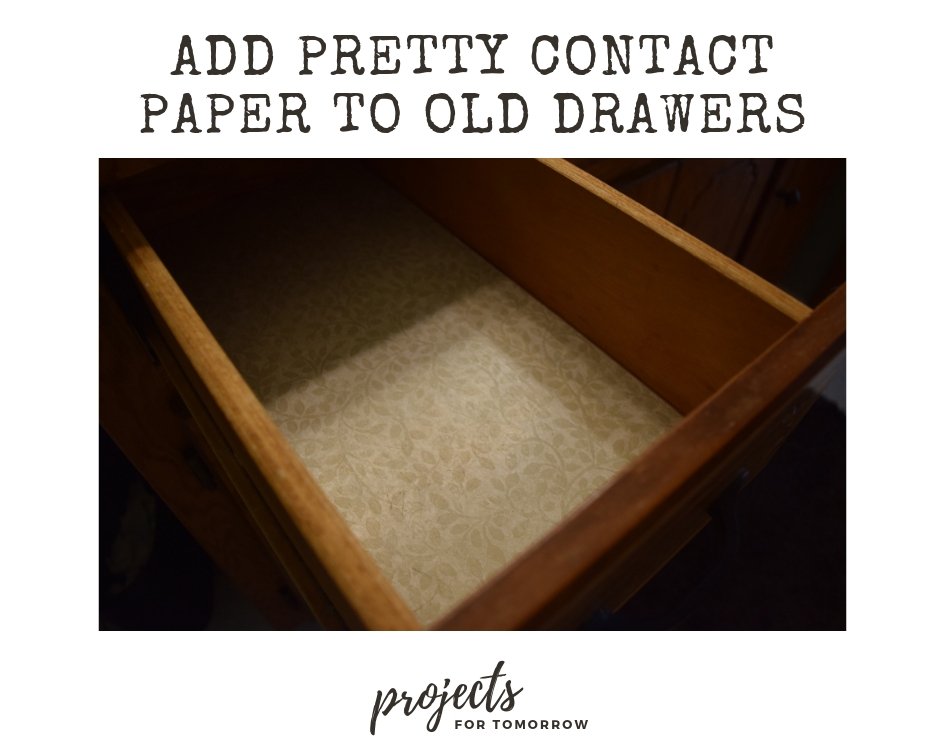 One. A simple solution to that grimy old cabinet drawer is to add contact paper. It will make it look clean and pretty and you can pick out the design yourself to add your own flare to your space.
How to Add Contact Paper to Drawers
Contact Paper has exploded the last few years. You can put it on almost anything. Find it in hundreds of different designs on Amazon here.
First clean the drawers with bleach wipes or a wet rag. And let dry.
Measure the bottom of your drawer, length and width.
Use scissors to cut out your paper. (If you want it exact, cut out a slightly larger section and then after placing it in the drawer, go back and cut the excess with utility knife.)
Peel off the plastic backing and carefully place the contact paper in the drawer. It may work for you to peel off a small section, stick it and then peel it off as you push it flat.
Use a plastic card such as a credit card, to smooth out the bubbles.
Repeat for each drawer or shelf.
Two. Nothing says outdated more than the glued-on ceramic towel racks. Update with some more modern fixtures. Amazon sells packages now where you can get an entire set of matching fixtures. They really make it easy these days.
How to Remove a Ceramic Towel Rack
Start with a utility knife and cut around the ceramic. Do this so that your painted drywall does not come off with the ceramic.
Then, use a hammer and a small crow bar or scraper knife to slip between the wall and the ceramic. Carefully pry the towel bar loose.
Next, you'll want to clean up your mess. Add a layer of spackling compound over the small hole if it's less than .2" thick. If more, you may need a drywall mesh cover first. I like to use this one, but you can also find this one on Amazon. And then you will "spackle" over your mesh cover.
Once the spackling compound is dry, you can sand it and paint the wall. *Nothing stands out more than spackling blobs on walls that have been painted over. Be sure to do a thorough job sanding.
Three. You could go as far as to replace your vanity, but that takes time and a lot more money. Start with some smaller updates such as your faucet.
A new modern faucet can really update the look and when you do update the vanity, you can re-use the same faucet.
Contact a local plumber to install your new faucet if you don't feel comfortable doing this project yourself.
Four. Another area that's super easy to update on your bathroom vanity is the hardware. Measure how far apart the screws are and then go pick out something more particular to your liking. Again, Amazon has an amazingly affordable selection, where you can even get all the hardware pulls in bulk.
How to Replace Hardware on your Cabinets
Check to see if your hardware has one or two screws holding it onto the doors. If one, you have many options for your hardware "knobs". If you have two screws, you will need to measure the distance between them and find a similar alternative "pull".
Buy your new knobs and pulls, which should come with screws
Your last step is screwing them in place with a screwdriver.
If your bathroom cabinets really need a face lift, then you could attempt to paint them. I've covered this DIY here: How to Update your Solid Wood Cabinets with Gel Stain.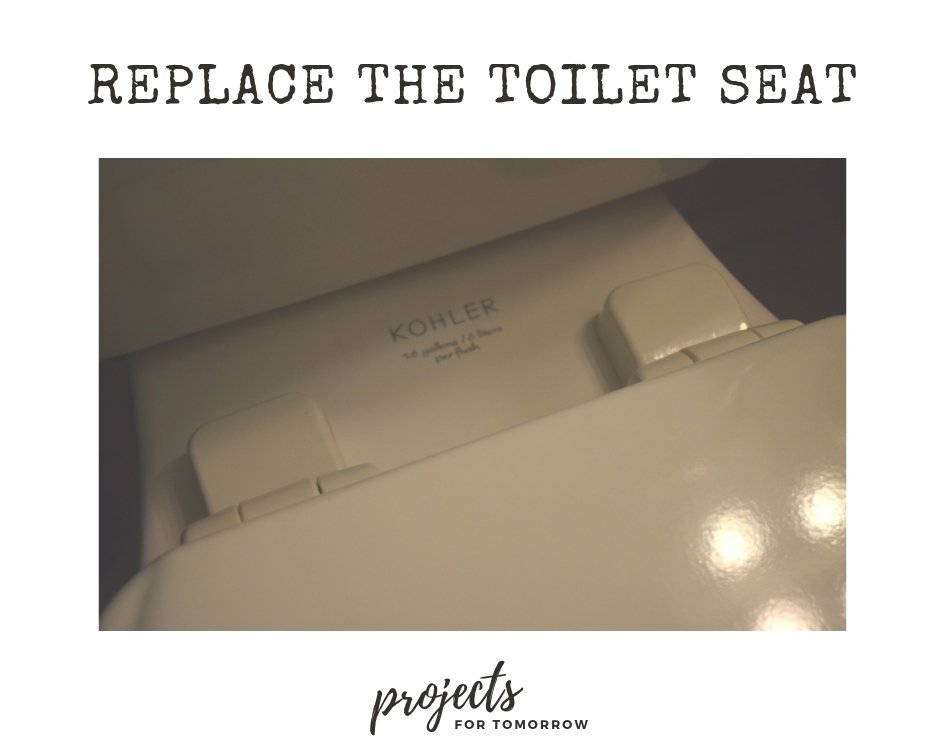 Five. You don't need to update the entire toilet to make it feel clean and new. Just replace the lid. It's easy to do and you can even upgrade to a soft-close feature. Your little ones won't be smacking that lid closed anymore!
How to Replace your Toilet Seat
First, be sure you buy the correctly sized toilet lid. They typically come in two sizes, round (~15inches) and elongated (more than that) and you can tell by looking at your toilet bowl shape. I like the Kohler brand and will pick them up at a big box store but you can find them on Amazon here.
Before you even start, I would suggest putting on some gloves, and disinfecting your toilet.
Then, you will start by removing the caps on the back of the pot right behind the toilet seat. These plastic caps contain the hardware that holds the lid to the toilet.
Find the bolts on the underside of the toilet and unscrew them. You may need a wrench or pliers (or both) to hold the screw in place while you remove the "stuck" bolts.
Remove the screws from the top of the pot.
Then, remove the toilet seat and place into a garbage bag along with said screws.
You will find an intense amount of grossness under those caps. Clean the toilet thoroughly.
Finally, add the new toilet seat to your bowl and put in the screws.
Twist the bolts from underneath to secure the screws and the toilet seat to the bowl. You may need to adjust your seat to get it straight and then tighten those screws.
Put the new caps on top of the hardware once again and you are finished! Easy peasy but a little dirty!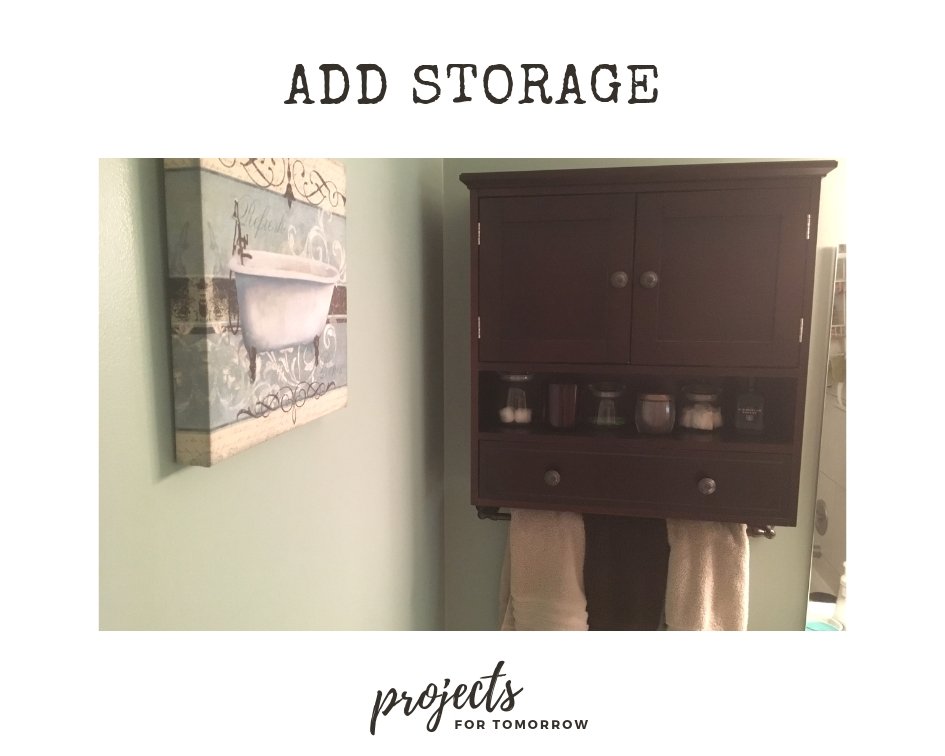 Six. Check out your storage, is it optimal? Maybe a new cupboard on the wall will add just enough for you. Want it all to feel cohesive? You can even update the hardware to match your new vanity cabinet ones.
How to Update a Cheap Cupboard
Buy some wall storage and install it as instructions direct you to.
Trade out hardware with matching ones.
And done!
SEVEN. Sometimes all your storage needs is a little organization. Add some slide out trays for easy access to all your small bathroom stuff. I found this one at the Container Store, but you can find similar ones on Amazon.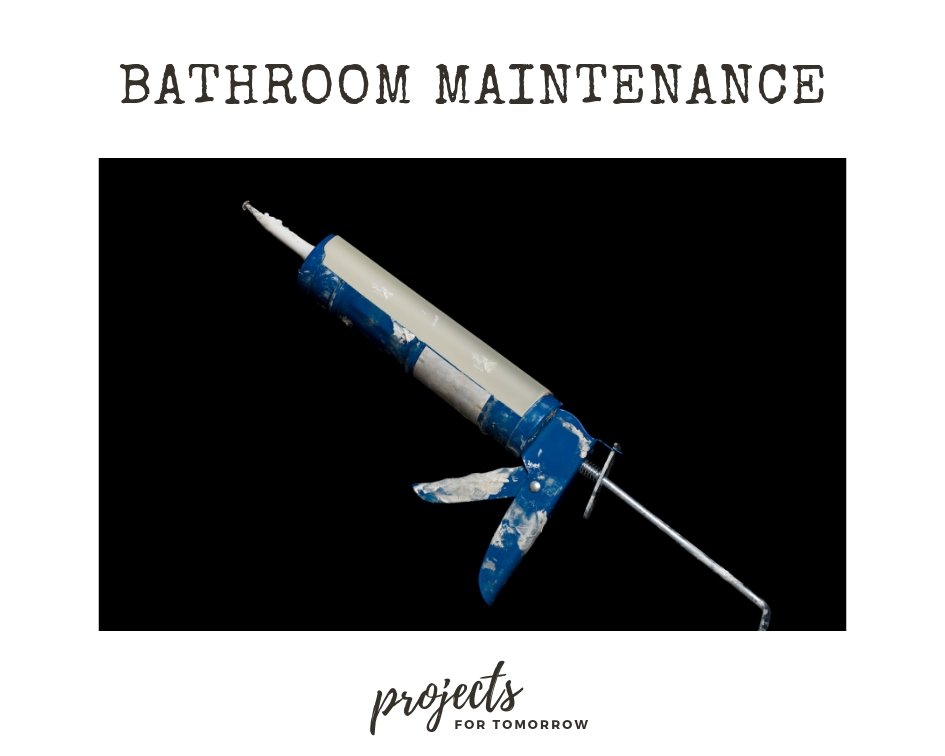 EIGHT. Next, take a look at how the bathroom was maintained. Does it need any caulking around the bathtub and vanity countertop? Does your fan work? Could the lighting work better for you, with maybe a different fixture or even a different color lightbulb? I find these things get ignored. And they are some of the easiest fixes in the bathroom! Even though I recommend getting one, you can even get caulk without a caulking gun now.
How to Caulk your Bathtub
Buy caulk to match your tiling and a caulking gun if you do not currently have one. As a homeowner, you should have one. ?
Be sure the area you are caulking is clean and dry.
Open the caulk with the needle on the caulking gun or a decent sized nail.
Pull the trigger slightly to let some of the caulk spill out of the tip, you are ready.
Slowly point the caulking gun in a direction around your tub leaving a small line all the way around. Then carefully, use your finger to press on the caulk, smashing it into the corners to remove all the air bubbles.
Let it dry before using the bathtub.
Use the same method to caulk around your bathroom sink countertop.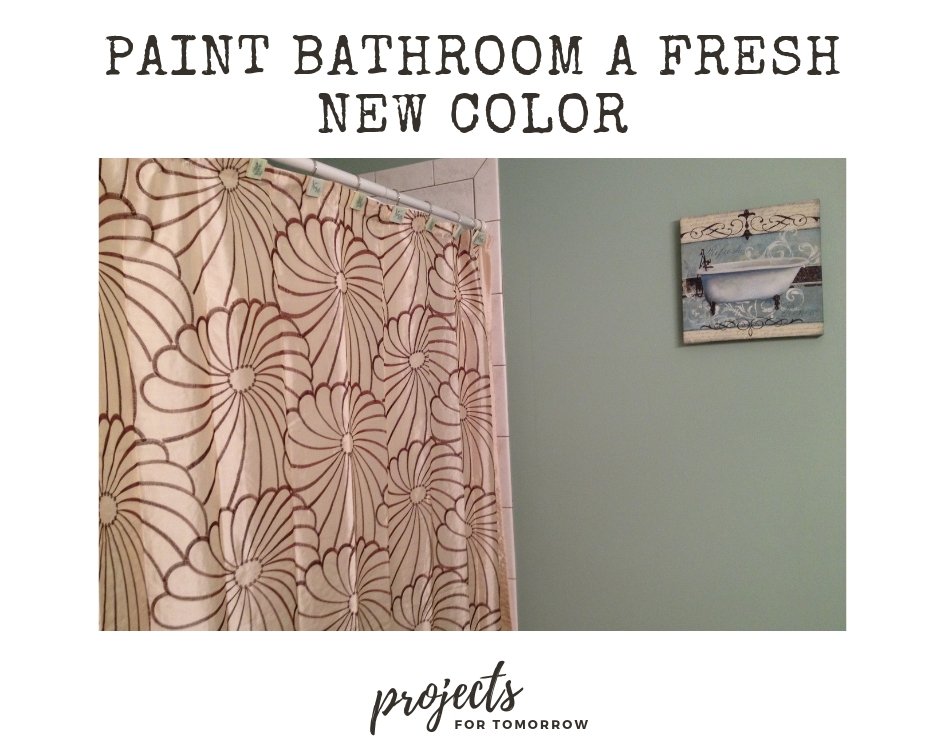 NINE. Change the color of your bathroom walls to a color that really soothes you. Because bathrooms are typically small, they should take less than a day to paint.
And to speed the process even more, you can purchase one-coat paint like BEHR Marquee's from Home Depot. I love the coverage of this thick paint. But be warned, if you are painting over a deep red color, you still may need two coats!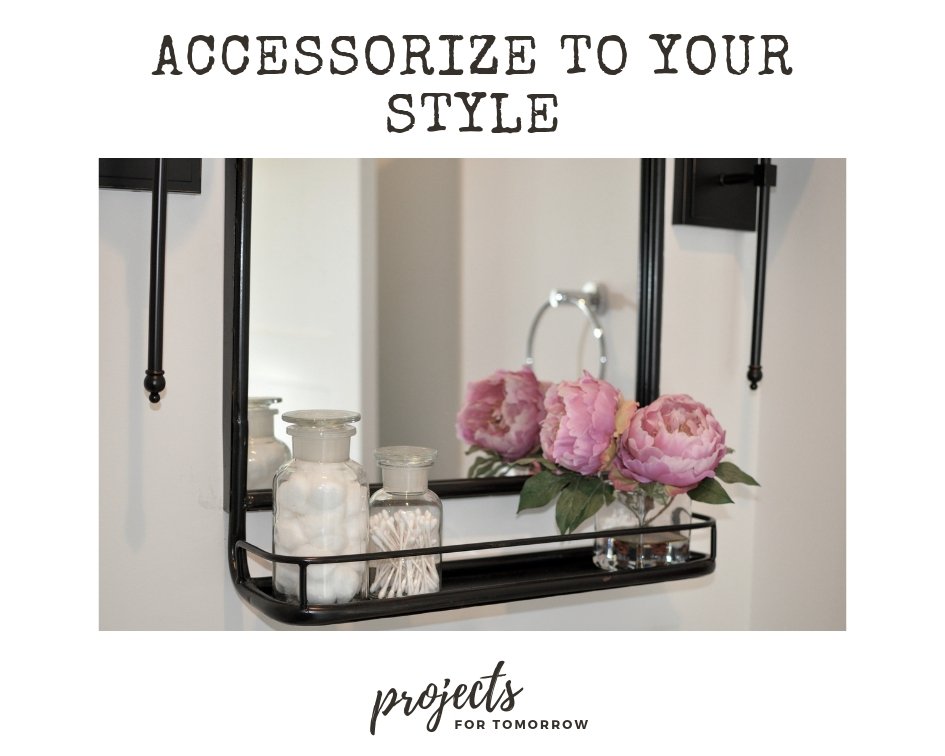 TEN. Now that you have an idea of colors and function, you can accessorize. Add some colored towels, some candles, rugs, a new shower curtain, additional hooks. Make it your own efficient and beautiful space.
Conclusion
One day you will be able to redesign your dream bathroom, but today, you can do these 10 simple updates to make your bathroom your own.
As a homeowner, you will be spending a lot of time in your bathroom. Be sure to take the first steps to love your space.
Helping you plan for tomorrow,
~H.
If you enjoyed this article, you may also like this one.
Have you been thinking about changing up your kitchen? Click here to read the Step by Step Kitchen Remodeling Guide to learn more.