Starting from scratch and not sure where to start first? Scroll through my process and get some ideas for your own landscaping project!
but first…
Why landscape your new home?
Obviously, landscaping your yard adds curb appeal but it has so many other benefits too! It can help insulate your home, provide shade from that hot sun, and bring joy to you and your neighbors.
One thing we've already noticed: the more turf you remove, the less lawn you will have to mow.
So, here's what we started with. It might look similar to yours.
In September 2020, we moved into our 2019 home which had a few planted trees and shrubs in the front and a lawn that stretched up to the house on three sides.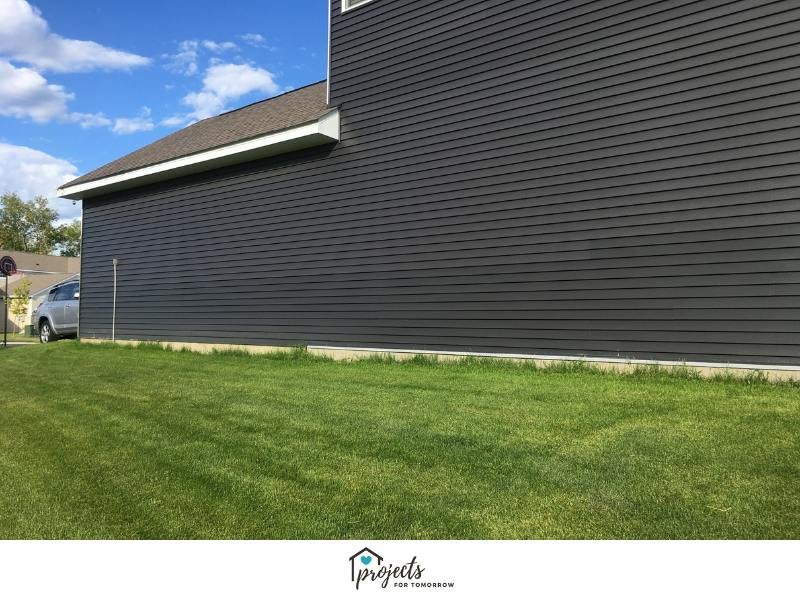 DIY Landscaping Table of Contents
Disclaimer
Planning Phase
Landscaping Journal 2020
Landscaping Journal 2021
Sod Cutter
Landscaping Journal 2022
On the landscaping agenda for spring/summer 2023:
Disclaimer to those ready to DIY: this is a hefty project with a large time commitment. I only worked part time and not during the summer, so I had ample time to do this.
This section of my blog is a huge work in progress and I apologize it's not complete yet. But I hope to add lots of before and after pics and tips I've learned along the way so come back soon!
Landscaping Planning Phase
There was minimal landscaping so we had almost a clean slate to work with, except for an installed Trex deck, a black chain link fence, and some plants by the front door. And the builder had installed five trees on the property.
Because we moved in September 1, we didn't get much accomplished before the first snow fall. Over the winter, I had plenty of time to ponder what my new green space would look like, and where best to put my plants (from my old house). I attended a landscaping webinar, read lots of books and looked for other websites for inspiration and motivation.
In the Spring, I reached out to a landscaping company to tackle all my projects and I was not thrilled with the price tag. So, it was decided, I would DIY as much as I could.
On the landscaping agenda for spring/summer 2021:
Remove the sod next to the house, plant shrubs, and put down a border and decorative river rock.
Add dirt to west side of house to make path more walkable.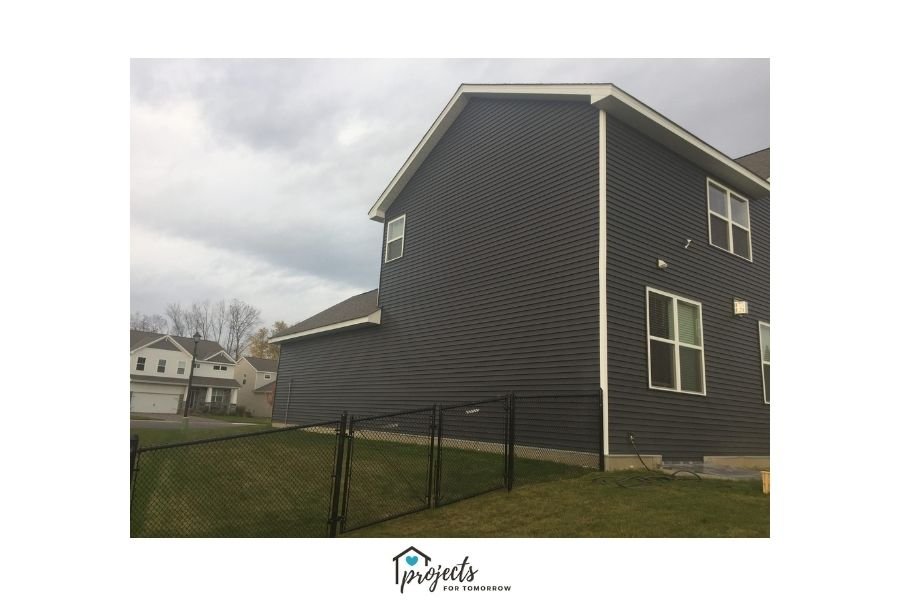 Create a flower garden across the back of the fence.
Fix our sprinkler system.
Fill in decorative rock underneath deck.
Create an annual garden next to deck with Magnolia tree and other shrubs.
Install a vegetable garden next to house complete with rock pebbles and border.
Create a clematis garden complete with large trellis.
Install a fruit garden along the back side yard and create a barrier (to prevent rabbits.) (moved to next year)
Fix our front sidewalk and gutter system. (moved to next year)
Re-landscape front of house. (moved to next year)
Getting started was more difficult than I thought because I wanted to plan it all out before starting. But one day I bravely rented a sod cutter and away the project went.
Landscaping Journal 2021
The following listing is a documented account of my summer. Most bullet points took up one day but sometimes I could fit a few items in a single day. The majority of the work took 100 days. Within the bullets I tried to not cover general maintenance things such as mowing, weed-whipping, dead-heading, shopping and watering. In the Midwest, it was a very dry summer, so I spent almost every day watering.
May 2021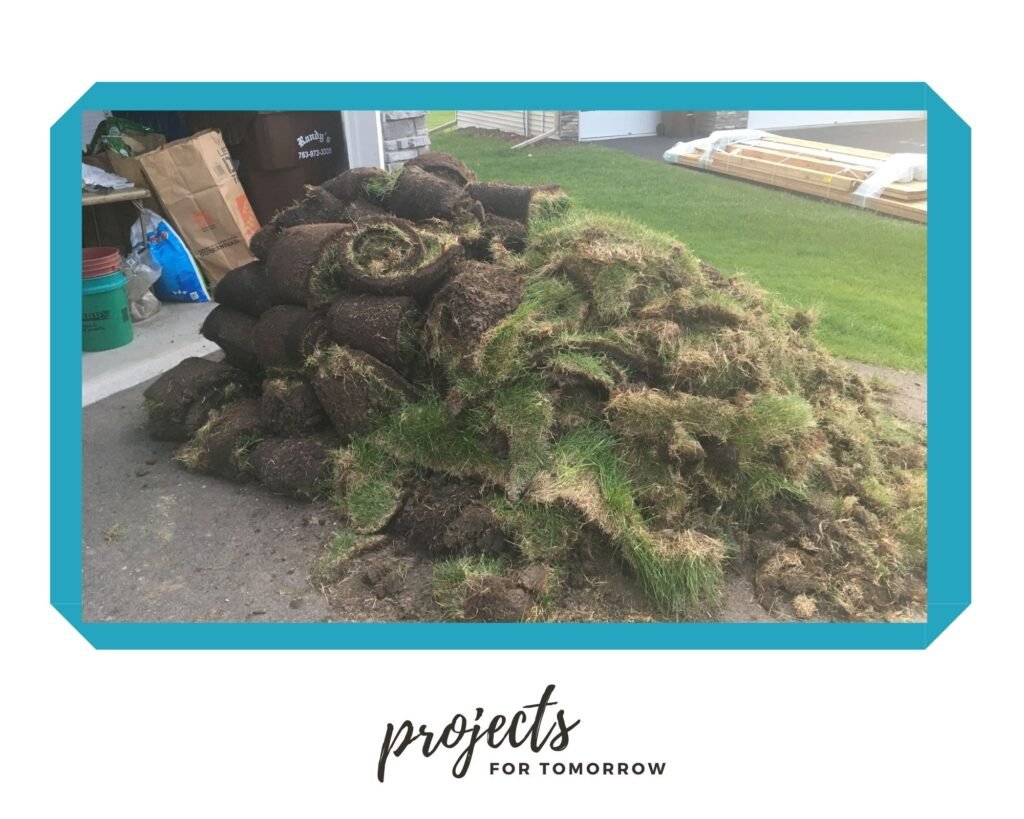 Used a shovel to clean up the grass/sod against the fence.
Rented a tiller to soften the dirt in my project areas. Moved dirt to side of house.
Bought some boulders and placed them in my project area.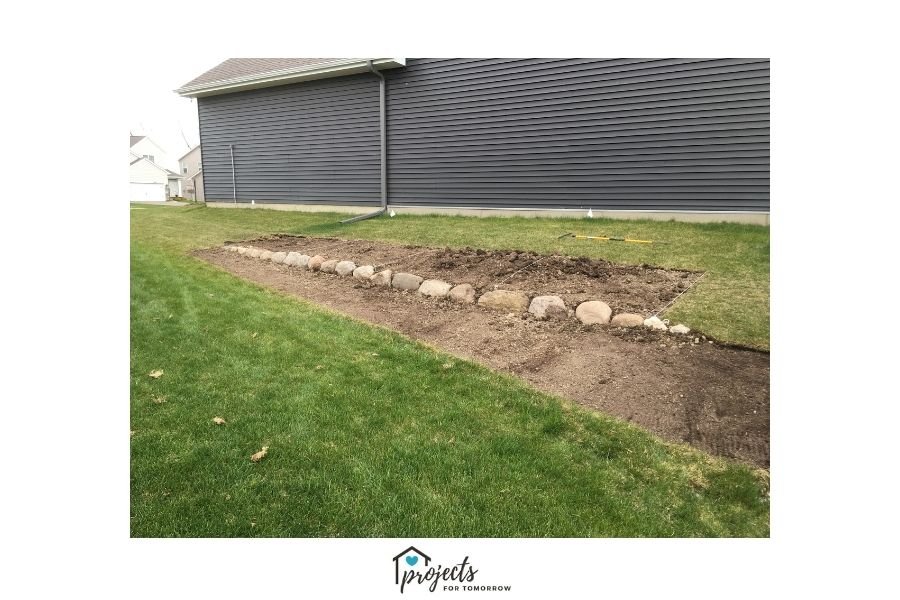 Added soil to front side garden and mixed in with native soil. Dug a trench for Irises and planted them.
Dug holes for my Little Giant Arborvitaes, created berms, and planted.
Planted Ninebarks in raised bed for later.
Built a half-in ground garden box for my raspberries.
Bought annuals at local hardware store for pots.
Ordered 4.5 tons of garden soil.
Installed a fence border around the backside of the top garden.
Shoveled out rock and bucketed it for later.
Talked with city about grading requirements. Did not need permit.
Trenched and installed pavers on top of hill garden
Planted raspberries in new garden box.
Moved dirt from driveway to garden 3. Planted annuals and bleeding hearts in garden 3.
Set up flags to mark off next area of sod cutting.
Moved dirt from driveway to garden 1.
Installed a no dig border around the raspberry garden, landscape fabric, walking stones, and rocks.
Added mulch (from under deck) to raspberry garden.
Weeded.
Rented sod cutter and removed grass around the east side of the house, the south east corner and the west side of the house.
Removed all the edging that the sod cutter could not get.
Moved dirt from west side pile to south east corner.
Leveled the dirt on the west side and compacted it. Added some top soil. Used recently cut sod to fill in the west side walk way.
Moved mulch from under deck to hill under plants in garden 3.
Moved clay dirt from hill to corner garden.
Finished cleaning up the sod against the house.
Moved garden dirt from driveway to top of hill gardens. Leveled soil with rake.
Dug up more clay dirt and moved it to south east corner garden.
Dug a trench and laid pavers up the hill in corner garden.
Dug a large hole and planted a Pussy Willow shrub.
Moved mulch from under deck to corner garden under Pussy Willow.
June
Sprinkler system adjusted by company and moved to new spots.
Research plant selections.
Starting with the east side of the house. Dug three holes and moved dirt to driveway. Planted a Dogwood shrub and 2 Wiegela shrubs.
Dug three more holes, planted three Techny Globe arborvitae bushes on the west side of the house.
Planted mock orange bushes, fothergillas, mugo pines, and another set of ninebarks on the wets side of the house.
Rented a truck from Home Depot to transport the rest of the sod to a local recycling center. Two truckloads: one with sod, one with clay dirt.
Dug a trench and laid pavers in the Iris garden.
Moved dirt around in the south east corner garden. Uncovered a very large rock to dig out.
Created a space for my two rain barrels. Put down landscaping fabric and 3 turfstone pavers. leveled them just slightly away from the house.
Weeded and then laid landscaping fabric to the west side of house.
Planted another Techny Globe Arborvitae on the east side of the house.
Laid out south east corner garden for boulders; went boulder shopping.
Planted my son's garden in the top hill garden 1. Planted lily, Coreopolis, Coneflower, Sunflower, Delphinium, Bee Balm, lemon balm. Made a rainbow of color.
Placed boulders in south east corner garden. Added more garden dirt
Dug trench and installed pavers around corner garden.
Installed a no-dig border to divide the rock from the mulch in the corner garden.
Planted day lilies on top of hill and in corner garden.
Mulch arrived. Started laying mulch on areas that were done.
Planted peony in son's garden.
Lots more shopping.
Planted Potentilla in west side of house.
Planted North Pole Arborvitae in south east corner garden.
Measured out rock needs. Ordered 10 tons of river rock. Came the next day.
Planted veggies in raised garden beds.
Dug trench around east side of house, laid pavers.
Planted Hastas in east side of house.
Laid landscape fabric down on west side of house.
Transplanted additional Irises to corner garden and garden 2.
Transplanted Hydrangeas to new garden behind the house between the two egress windows.
Moved rock to west side of house, hand placed rocks around shrubs.
Planted Magnolia Tree in south east corner garden.
Moved rock to east side of house.
Weeded and dug three holes on south side of deck.
Planted Annabelle Hydrangeas on south side of deck.
Planted three more holes for Annabelle Hydrangeas. six total.
Planted three Clematis against south side of house. Moved mulch around it.
Dug trench around south side of deck, laid pavers.
Installed landscaping fabric in south east corner garden and south of deck.
Installed a no-dig border to the Clematis and hydrangea area behind house.
More shopping.
July
Dug trench and laid pavers around the rain barrel area.
Laid landscaping fabric around the clematis area and new walkway between raised beds and house.
Moved rocks from driveway to landscaping fabric areas.
With husbands help, moved large boulder to new decorative spot on top of south east corner garden.
Dug trench around veggie garden.
Leveled and added dirt under deck.
Laid landscaping fabric under deck.
Moved a lot of rock.
Transplanted Lamium to top of hill.
Weeded.
Removed Japanese beetles.
Researched trellises.
Made trellis and painted it white.
Move more rock.
Installed pavers around raised garden bed.
Added annuals in south east corner garden. (Double Zinnia, Coleus, Plectranthus, Lantana Montevidensis, Verbena)
Started adding top soil to areas of grass needing seed.
Laid starting fertilizer, seed and peat moss around pavers.
August
Added pea pebbles to walk way around raised garden bed.
Planted Mums in corner garden.
Started my love/hate relationship with rabbits.
Finished pea pebbles around veggie garden, added pea pebbles around raspberry garden.
September
Shopping
Removed white pine tree from back yard. (Sold on Facebook Marketplace).
Planted Rose bush between Hydrangeas.
Participated in a plant swap. (came home with pink phlox, varigated hasta, etc)
Planted hollyhock seeds in garden 2.
Installed new hose for rain barrels.
Thatch and aerate lawn. Add top soil.
Weed, Seed and Fertilize grass.
Weed top of hill near road. Seed and fertilize grass.
October
Added compost in top gardens for future bulbs.
Remove dead plant waste.
Create a landscape book to document where everything is.
Clean out and dry rain barrels. Flip over for winter.
Winterize yard, put sprinklers away, etc.
November
Ordered spring bulbs.
Moved lawn furniture into garage for winter storage.
Bulbs arrive!
Till gardens and plant spring bulbs.
Landscaping Journal 2022
The winter was long and hard and I am more excited than ever to get back outside and get to work!
On the landscaping agenda for spring/summer 2022:
Install a fruit/veggie garden along the back side yard and create a barrier (to prevent rabbits.)
Fix our front sidewalk and gutter system.
Re-landscape front of house.