Wednesday May 5th: getting started on my summer long project.
Goal for Day 1:
Rent a sod cutter to remove as much sod (or grass) as I can from:
a. the fence line and
b. from the side yard on the west side of the house.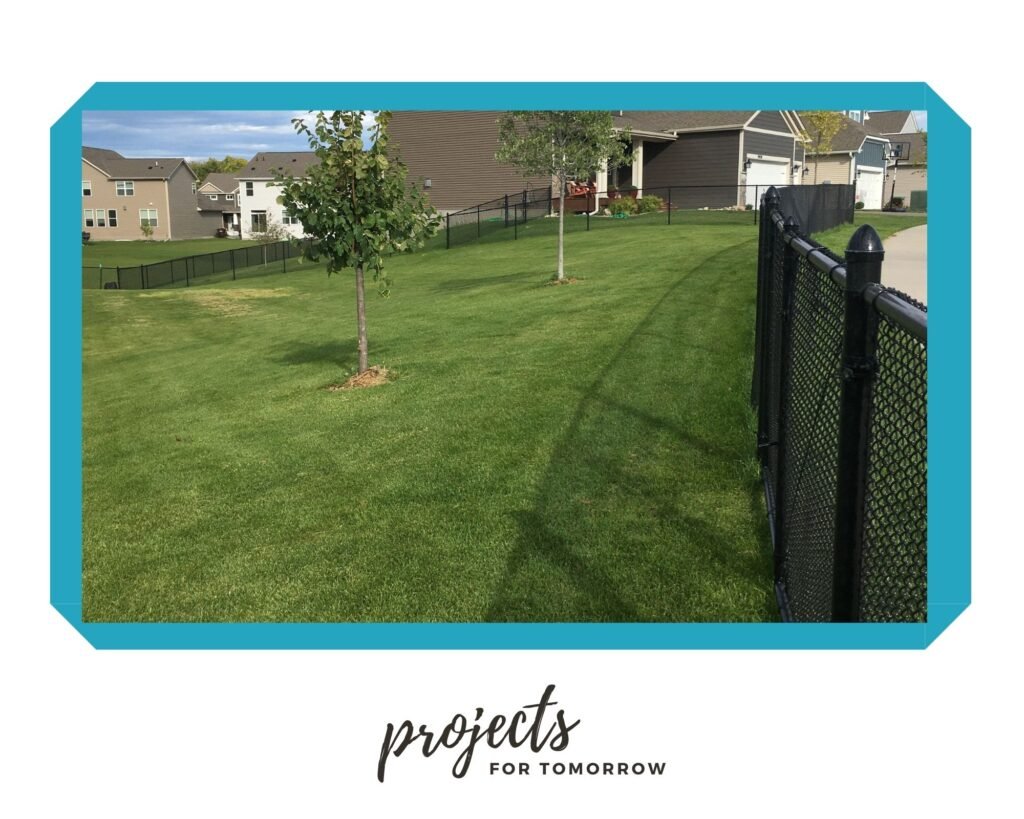 Planning before Day 1:
Knowing these projects were going to take most of the spring and summer, I divided out my yard into sections. I would only remove grass in two areas of the yard in round one.
But before I could remove the grass, I needed to map out the sprinkler heads by turning them on and placing a flag next to each one. Secondly, I had all the buried utility lines identified.
Day 1: How to remove sod with a sod cutter.
I rented a sod cutter from a local rental company, and picked it up after the kids got on the bus.
Unfortunately I didn't take any pictures of the sod cutter I rented but here is a link to one that you can rent so you can see what it looks like. It's massive.
The handles detached so that it could fit in the back of my SUV. My back yard sits on a hill and backs up to another street, so I actually dropped the sod cutter off on top. The 125+lb piece of equipment is hefty but I could still wheel it around.
I chose a 12 inch blade for manageability but there was an 18 inch alternative at the rental place for faster work.
How does a sod cutter work?
A sod cutter works by cutting the grass away from the dirt underneath. As it self propels forward (and you guide it), it lifts the grass. When you get to the end, you can lift it up to make a final cut, or you can walk across an already cut piece for a nice finished edge.
Starting at one end of the fence, I lifted sod all the way down the 90 feet of fencing. Then I went back and rolled and picked up sections.
A handheld utility knife was vital for this project. It could easily cut through the sod and I was able to make 3ft by 1ft sections.
The end result at the back fence was to create a row garden the full length of the fence 4 feet wide near the trees and 5 feet wide elsewhere. This created three larger gardens, and three smaller ones. A wavy line added more interest and it was fairly easy to maneuver the sod cutter to make it.
However, I did learn a valuable lesson not to pull up the sod until done cutting. After I pulled up the first row, the wheel on the sod cutter was lower on the one side, causing the cutter to cut the next row of sod sideways. This, unfortunately, pulled up more clay soil than I wanted and I had to use a tool to scrape the clay off prior to rolling it. You may be wondering why I took the effort. One, I wanted to be able to lift it into my cart and two, I wanted to create a nice roll so I could get rid of it.
Part two: removing the sod from the side yard.
When the top hill was completed, I very carefully pushed the sod cutter down the hill to the west side of the yard. Okay, it may have pushed me.
After the extra work I made for myself on top of the hill, I went over the entire area with the sod cutter before rolling it up. Again I used a utility knife to cut the sod into 3ft x 1ft sections. I did have a few extra little strips of sod in the end because it's hard to see your cut lines and I wasn't exact.
This section of the yard is being set up as a side garden. A rock border will hold up the additional dirt we are adding to this area. Our hope is to create a more safe walking path to the backyard as it's on a pretty large incline.
What did I do with all that sod?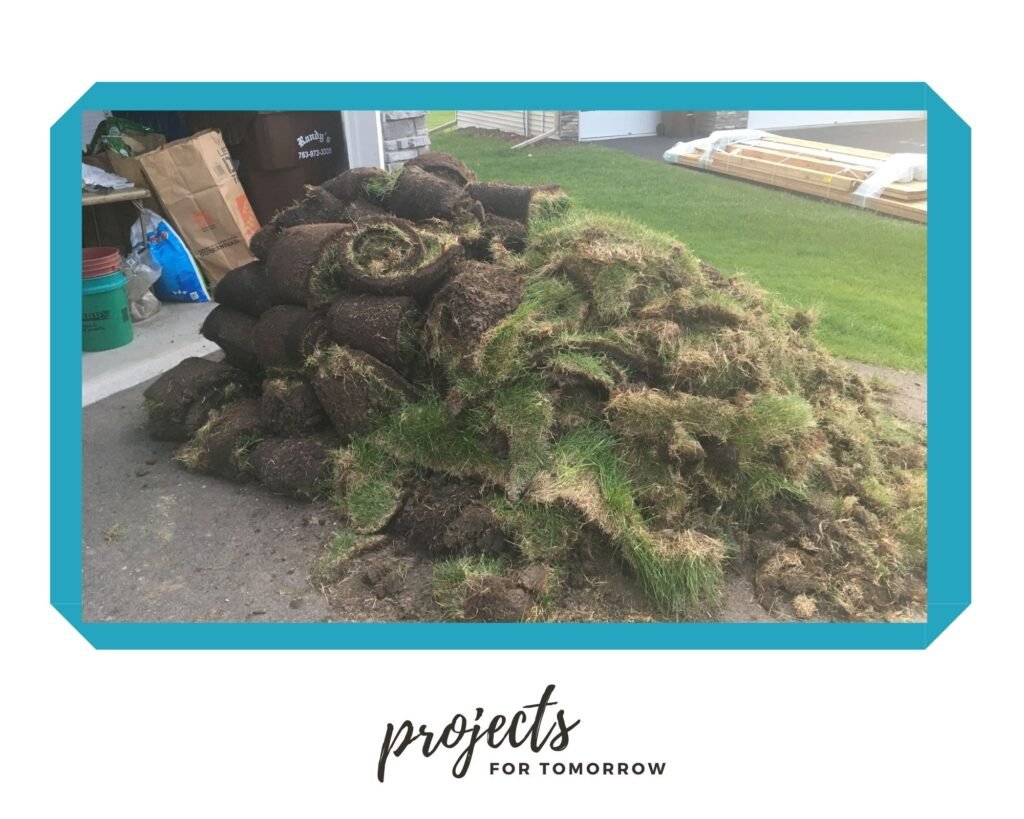 While I like to send you tidbits on what and where I buy my products, do know that if you click an affiliate link on this page and make a purchase, I may earn a small commission at no additional cost to you. See my disclosure policy here.]
As I rolled up the sod pieces, I lifted them into my gorilla cart, and six rolls of sod at a time, I wheeled them to my driveway.
I knew this sod could be reused, so I set up a system to keep the sod from drying out. I put down a layer of burlap on the black top, then dampened it with a hose and stacked the sod rolls. After each layer, I dampened the sod again.
At the end of the day, I was able to use Facebook to advertise free sod to my friends and family, and disposed of all of it.
Conclusion
Sod cutters are heavy. If you are going to DIY this step in your own yard, please be ready for some heavy lifting and pushing. When the sod cutter is working, it self propels forward, but when you just need to move it to the next section, it's a haul.
It took roughly 8 hours of cutting and rolling on Day 1. The sod cutter was returned the next morning.
DIY landscaping had officially begun.
Helping you plan for tomorrow,
~H.
Want to read what I do next, click here.