Here is the 6th and final page in our Kitchen Demolition series. If you are just joining us and you want to go back to the beginning, click here.
Day 7 of our project was more about taking a step back and seeing the big picture. Then, walking through the details of each step to be sure every decision had been made and all our preparations were done.
Our space was cleared out and we could really start to visualize the new cabinets and layout within the space!
Timeline
Even though our Day 7 was filled with kid's baseball and a baby shower, my husband and I managed to take care of a few necessary things. We prepped our house, removed light fixtures and talked through some big decisions.
Getting cleaned up
Day 7 started by cleaning up our tools and sweeping the floors. We wanted a clean working environment for our contractors. This meant upstairs and down.
Prepping the space under the kitchen
We were very fortunate that our "unfinished" laundry room is right below our kitchen. Huge cost saver!! The contractors had easy access to all wiring and piping from below.
We organized our laundry room by taking everything out of it, and we took down the ceiling tiles. I drew a grid map, and as we took the tiles down, we wrote a number on each one with a marker.
This way, we could put all of the ceiling tiles back up in the same spot and minimize the headache of fitting them back in.
Removing light fixtures
Upstairs, we removed our light fixtures from the ceiling.
Note: I would not recommend doing this yourself unless you have been trained in electrical wiring.
The dining light was not too old and fit with the decor of the new kitchen so this went downstairs into a re-use pile.
The track lighting and over-the-sink light were put into a sale/donate pile.
Tips for You When Prepping for Contractors
By prepping your home, you are giving the contractors their best chance at doing quality work for you. Don't have anything in their way, and communicate with them exactly what your needs are.
If you have ceiling tiles in your basement, label them. By creating a grid map, you will successfully fit the tiles back up into their respective spaces once the remodel is finished.
Save a little money by taking the light fixtures down yourself; but if needed, your electrician can do this for you.
Answering those important questions before the contractors arrive will help you get exactly what you need and want. Don't let them guess what you need. Still have questions, be ready with a list to ask them when they arrive.
Be firm in your decisions. Changing up your layout or even just changing where you light switches go, will be very costly.
Last but not least, answer these key questions before contractors arrive.
Why?
These questions are better pondered and answered prior to your contractor's arrival. If you need to make changes to your original decision, you will spend additional funds and time if the contractor needs to come back. These are just some examples of questions to ask yourself; your particular situation could warrant additional questions.
Where was the kitchen island going to be placed? How much space were you going to leave between the oven and the island? The fridge and the island? The dining table and the island?
What kind of lights were you going to use in the kitchen? In the living room? Are you going to use recessed cans, or LED ceiling lights? Where are you going to place them? How many do you need to satisfy your lighting needs?
Light switches also need a home. Where best to put your switches? Do you update to dimmer switches? Do you need more switches because you added more lights? Which switches for which lights?
And electrical outlet boxes, do you have enough of these? Do you need to move them? Do you want to add any to your kitchen island? What colors are your boxes? Do you need to change your color to white? Do you have any appliance outlets that need to move? Does your current electrical box support all the changes you are about to make?
Did you know your plumber will take care of your gas hook up? Where should that be placed in your new layout?
Conclusion
I cannot stress this enough, preparing your home for contractors before they arrive will save you time, money, and headache.
What will be on your to-do list before your contractor's arrive?
Helping you plan for tomorrow,
~H.
Go back to the main landing page here or by clicking on the image below.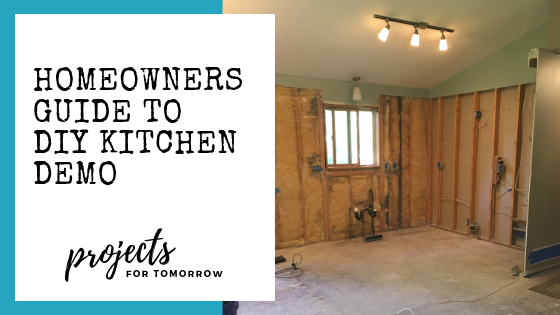 Interested in reading more about the kitchen remodeling process, click here or on the image below.