Here is page 5 of our 6 page series on Kitchen Demolition. If you are just joining us and you want to go back to the beginning, click here.
As of day 4 of our project, our kitchen is now pretty empty. We have already removed flooring, cupboards and drywall. And this may be all you need to do. But for us, we made the tough decision to remove a partition wall between our living room and our kitchen. And we are so glad we did!
Nowadays, kitchens are a centralized spot for hosting parties and spending time with family. You too, may want to knock down a wall or two during your kitchen demolition. (and you may not, it's up to you!)
So if you don't need to remove a wall, feel free to skip to Day 7 here.
Timeline
Assess whether your wall is load bearing or not.
Our 700 square feet of living space, which incorporated our living and dining room and kitchen, was separated by a small wall with a doorway and a window. It had a small column that went up to the ceiling to stabilize the wall from leaning. After getting multiple opinions, we were confident that this was not a load bearing column. (Very important!)
Getting Started
To prep for this day, I gathered my safety gear, crowbar, hammer, and ladder. I started with the wooden shelf in the middle, which came up easy with a little hammer nudge.
Next, I focused on the electrical. Hammering some holes into the wall allowed me to then use my fingers to remove the sheet rock around the electrical components.
Removing Sheet Rock
I learned quickly that the sheet rock was installed with a few too many screws and a long metal casing that went around the outside edges.
The best technique was to use my small crowbar and hammer and smash the crowbar between the 2×4's and the sheet rock and then push, leveraging the sheet rock off of the screws.
By the end of day 5, the wall was mostly see through! We could see all of the electrical and it was ready for our general contractor.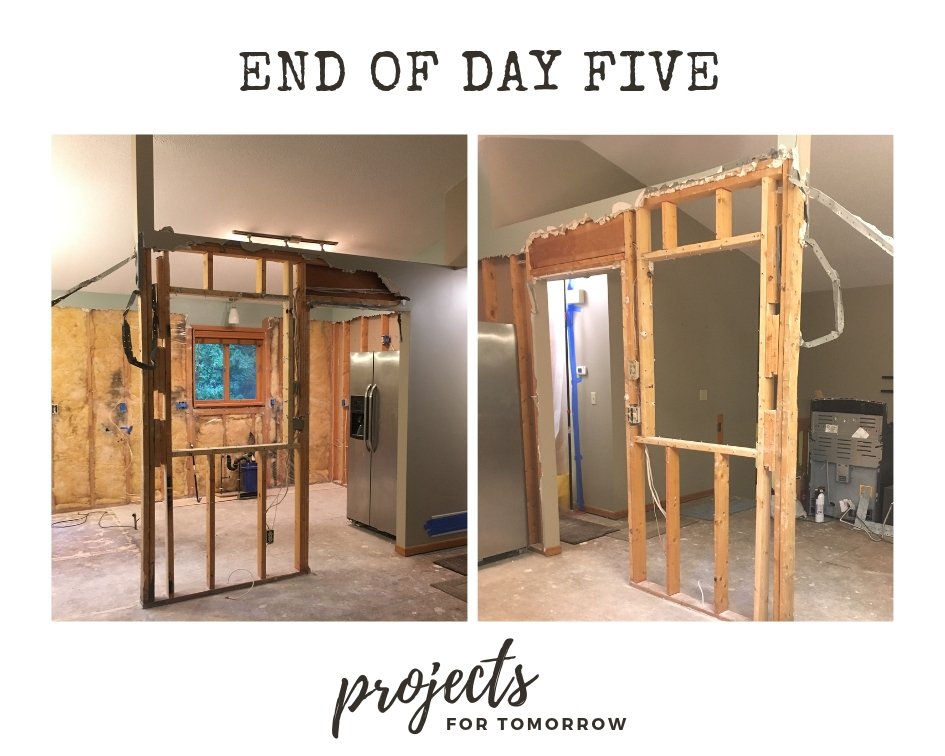 Timeline Continued- Day 6
At the start of day 6, our contractor arrived to the work site and was pleasantly surprised at how much work we had done on our own. (Props to us!)
First, he and my husband used a small hand saw to cut out the wall. They had to dislodge it from the ceiling, and slice it down to the appropriate size next to the hallway.
As you can see from the pictures, we left a small section of wall remaining. This was due to the air vent and for an aesthetic reason; I would rather see a wall coming up the stairs than the side of our fridge.
Next, we pushed all the electrical wires down through the floor. The telephone wire, which came from the ceiling, we left attached to the existing wall.
Then, we worked on the flooring for a bit before we got dressed up for a late afternoon wedding.
Finally, we had an open-concept living space, with more room to work with. I was really glad we gave ourselves 7 days to demo our kitchen; we needed all of them to work on the floor.
Demolition of Wall Tips
Another messy project, be sure to have your zipper wall closed and windows open.
Be sure to turn off electrical at the breaker prior to demolition.
Safety gear is important when you are working up. Goggles and work gloves are a must!
Even though it was fun to unscrew the screws from the 2×4's, it wasn't necessary to remove all of them, as the entire wall went into the dumpster.
Taking a wall down could probably be done in one day, but my husband and I were both working and our contractor wasn't scheduled to come over until Saturday, day 6.
We worked really hard during the 7 days of kitchen demolition. Even during an evening blackout on day 4, we moved all of our appliances to the garage (with the exception of our large refrigerator.)
Tools Used during Demolition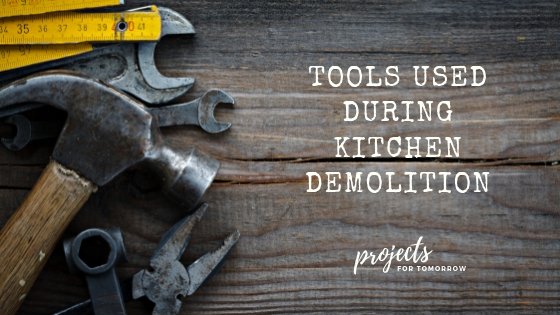 ladder
small crowbar
large crowbar
hammer
hand saw
safety gear
electric drill/ screwdriver
utility bucket, broom and dustpan for clean-up


Conclusion
It's amazing what you can do with a few tools. Don't rule out removing a wall from your kitchen renovation; it may be the best trick to making your layout perfect for your family.
Is there a wall standing in your way?
Helping you plan for tomorrow,
~H.
Continue reading the next step by clicking here or on the image below.
Go back to the main landing page here or by clicking on the image below.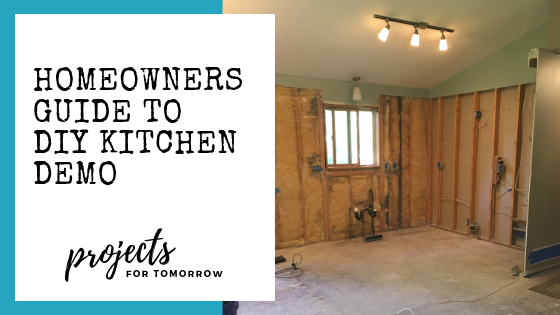 Interested in reading more about the kitchen remodeling process, click here or on the image below.