[If you click an affiliate link on this page and make a purchase, we may earn a small commission at no additional cost to you. See my disclosure policy here.]
Installing knobs and pulls yourself can be a great way to save cost on your cabinet installation. If you are comfortable with a drill, any homeowner should be able to do this. To make it even easier, most local hardware stores sell a small template tool that can help you measure the correct distances for your drill holes.
In this article, you will learn how to install kitchen hardware yourself. Learn some different options on where you can place them on your cabinet doors and drawers. And get some ideas on what kinds of knobs and pulls you can use for your kitchen.
Let's start with the tools you will need to complete this project.
Tools Needed to Complete Project
Blue painter's tape or some other variety of tape.
Drill and drill bits
Extension cord
screwdriver (Type will depend on the type of screws you get with your hardware.)
pen or pencil
level (optional)
How to Install Hardware on your Kitchen Cabinets?
Decide on placement and type of knob and pull. See below for some ideas.
Count out how many hardware pieces you need; you may be able to buy them in bulk and save!
Take blue painter's tape and apply to the area where your pull or knob will be located.
Using the measuring tool, mark the drill holes right onto the painter's tape.
Next you want to drill your holes. I found it was helpful to drill a tiny hole with a smaller drill bit in the exact spot of your drill hole. Then, when you go to drill using the correct bit size, the bit has a guide and you are more likely to be accurate in your drill hole placement.
Remove the painter's tape.
Find the screw(s) that should be provided with the hardware, and pull them through the drill holes inside to out. Position the knob or pull in place, and using a screwdriver, screw the hardware firmly in place.
You will have a little leeway in your hardware placement, if it looks off, loosen the screw and position the knob or pull again, and then re-tighten.
Depending on the scale of your kitchen, this process may take a couple of hours or most of your day. However the size, take your time and do it right.
Placement of Kitchen Hardware
Placement will mainly depend on your own personal preference but you have a few options to choose from.
Hardware can be placed in the middle of the cabinet/drawer or to the opposite side of the hinge. You also have the option of putting your hardware at the bottom of the cabinet door, in the middle, or somewhere in between. There are many pictures across the internet to get a better idea of what you like.
Additionally, I recommend you look at function as you consider where to place your hardware.
For example, my husband and I had a lengthy discussion one night on where to put the pull on a shaker cabinet drawer. We debated the height of the pull in regards to the counter top. We didn't want to smash our hands on the counter trying to open the drawer.
To be safe, we waited to put on the drawer hardware until after the counter tops were installed. Then we tested it out. My husband was right. There was enough room to place the pull on the top shaker board as shown in the pictures. This aesthetic looked the best to us and was the most functional.
Hardware Options
Still deciding on what type of hardware to use?
There are two main types of hardware that can screw into your cabinet doors and drawers: knobs and pulls.
Knobs require only one screw hole and are on the smaller side.
Pulls require two screw holes and give your hand more of a "railing" to grab at.
Deciding which to use can be managed by comparing what your other designs are such as your overall theme, contemporary, modern, vintage, etc. and what type of faucet and appliances you are getting. It doesn't need to match, but you should be wary of anything that clashes.
Need some ideas of knobs and pulls, type in kitchen hardware in any search engine. There are many pictures out there to give you examples. Use your designer eyes to pick something that will fit with your style and your budget.
If you are still unsure, buy a variety of pieces of hardware and compare them at home next to your other kitchen components. Seeing it in your space may help you make your decision.
For our kitchen renovation, we decided on a combination of knobs and pulls creating a very contemporary look. Knobs were placed on the very top cabinets and pulls everywhere else. We found a larger pull for the full-length pantry cabinet so little arms could open it.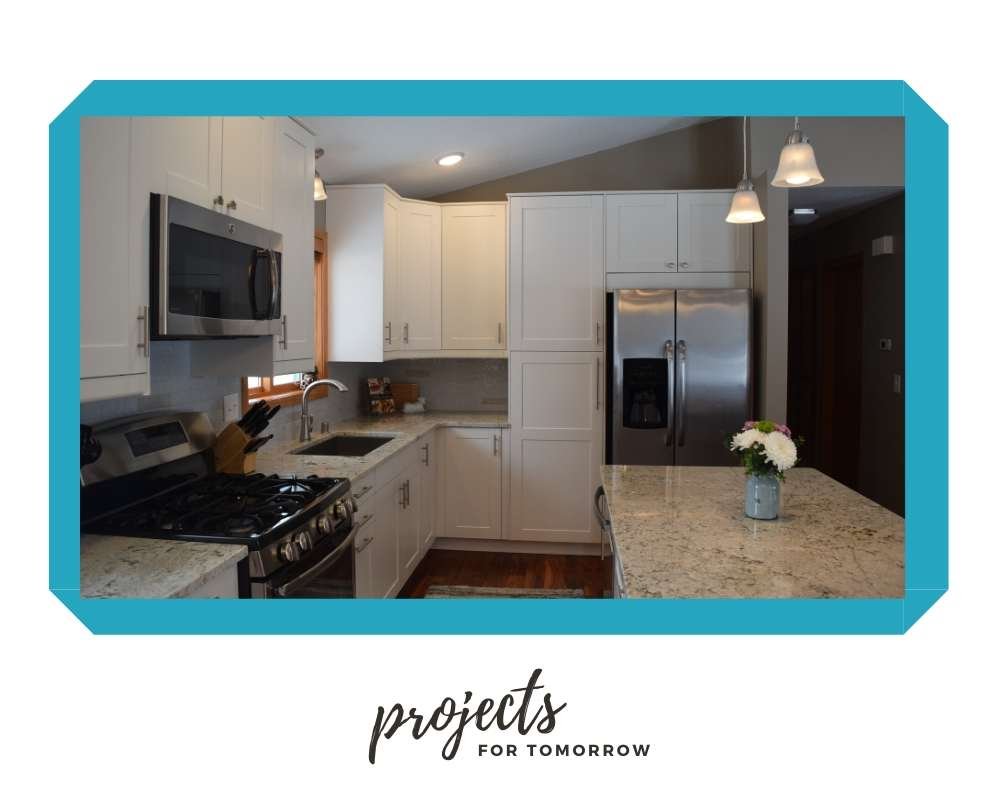 Conclusion
You will find that installing kitchen knobs and pulls is an easy undertaking for a homeowner. It's functional and it keeps messy fingerprints off the cabinet doors.
I hope that you find some kitchen hardware that's pleasing to you and you are able to save some money and create those finishing touches on your cabinets yourself.
Helping your plan for tomorrow,
~H.
Interested in learning more about the kitchen remodeling process. Click here or on the image below.
Interested in saving money during your kitchen remodel, check out the following article on the top DIY kitchen remodeling tips.