Should you remodel your kitchen? You have probably been asking yourself this question since you moved into your home.
Kitchen remodeling is expensive.
The 2021 national average cost of remodeling a mid-range kitchen is $26,214 and that's only for minor improvements, and $75,571 for a major remodel! (average compiled from homes in the US in the Remodeling 2021 Cost vs. Value Report found here (www.costvsvalue.com).
It's time to evaluate your kitchen and decide if it's time to do a kitchen remodel!
These next 10 reasons to remodel your kitchen could send you into action mode. Or the following 10 reasons to not remodel your kitchen will finally put you at ease that no, you don't need to do it.
Either way, you will have made your decision and you can pat yourself on the back. Finally, you will come away with exactly what you need, or if you decide not to remodel, you may even grow to like your current kitchen the way it is.
Sometimes it's just evaluating what you like and what you don't like and removing all outside noises from your mindset. Being content with what you have is okay too.
Maybe your Story is like mine?
Moving into our 1987 home back in 2010, my husband and I were just thrilled to be living in a single-family home with more space than we knew what to do with. Our kitchen was old and definitely lived in but it worked well enough for the two of us. A kitchen remodel did not seem necessary when we moved in.
However, we did update our refrigerator right away, as I was determined to have a filtered water dispenser, which I knew would help me drink more water! I was after all pregnant with our first child and very thirsty!
As the years went on, and another child later, we updated the rest of the appliances and upgraded our kitchen faucet.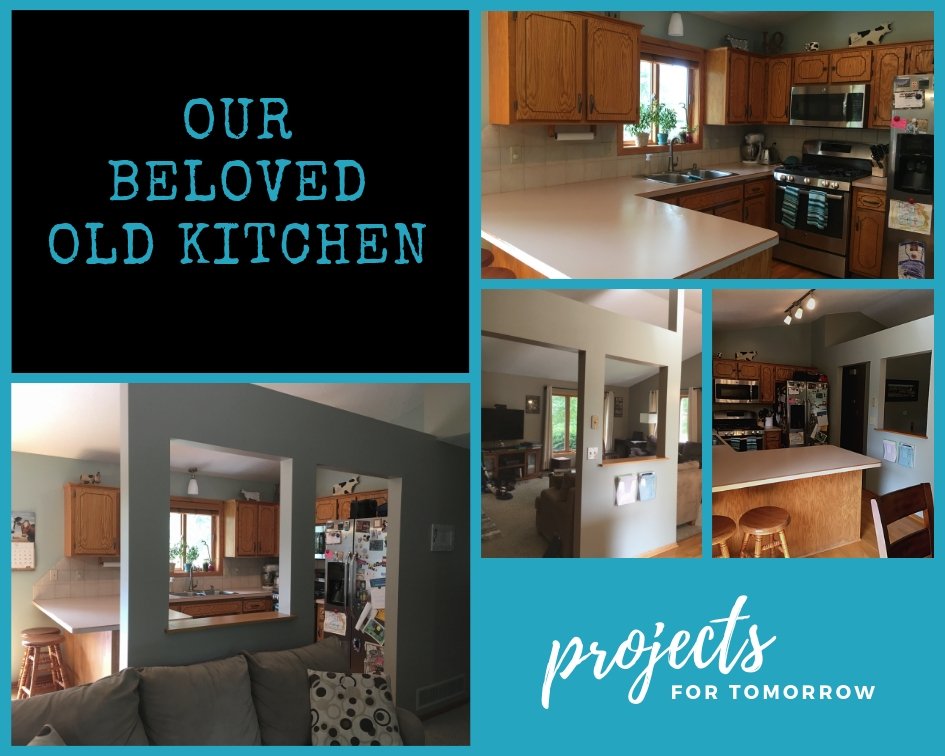 But then the kitchen no longer worked for us.
Even though the technology was better and the appliances were more efficient, our kitchen still did not work for our growing family.
Storage became a major issue. Our small kitchen appliances were stored in three different rooms of the house. Just as inconvenient, our food was stored in our hallway closet, in a book shelf in the dining room and in small cupboards in the kitchen.
In addition, we had deteriorating components as well. The engineered hardwood floor was separating, cabinets were broken, and our poor kitchen utensil drawer could only open a few inches because of the new oven handle.
We debated (a lot) just like you!
My husband and I debated making changes to our kitchen many times. How we could make it better. How we could utilize more space. And we debated whether or not we needed a wall that separated our kitchen from our living area.
This debate culminated one day in a lengthy discussion with our realtor, and what new home buyers might like (if we were to sell in the near future.)
That night, the remodeling seed was planted and the timing and the circumstances were right for a kitchen remodel.
Here was our logic:
We needed new flooring, and if we were going to do that, we were going to get new cabinets. And if we were going to get new cabinets, we were going to get a whole new layout!
The race was on to research as much as I could before the end of the summer. If we were doing this, we were doing it before Christmas. Two feet in with a pen and a notebook and I was planning every aspect of my kitchen remodel.
And you can too!
Should you remodel your kitchen? Here is why you should say yes!
Let's start with the obvious reasons to start a kitchen remodel.
1.Your kitchen is damaged and needs repair. There's water damage near your sink and your cabinets are starting to get mushy. Or, maybe you have mildew growing underneath and every time you open the cabinet under the kitchen sink, you pretend you don't see it. Enough said.
2. Your appliances are either broken or on their last leg. Do you pray that your dishwasher will turn on when you hit that start button? Maybe there's a few burners that you don't use on the stove because they stopped working years ago. Appliances don't last forever; the average dishwasher life expectancy is only around 9 years.
Or your kitchen works, but it doesn't work well.
3. You need better use of space. Kitchens are filled with pots and pans, gadgets and gizmos, food and drinks. Every item needs a storage space to call home. And not all older homes utilize the perfect design for all those things. Maybe your cabinets could go all the way to the ceiling or wrap all the way around that wall? Maybe you could have space for all your food in one spot? You won't find a new home without a pantry now.
4. You want updated appliances. Not only are your appliances old, but they are inefficient. They take hours to clean the dishes, or boiling a pot of water takes forever! Maybe you bake a lot and you want a double oven? Or maybe you just want updated cabinets, soft-close drawers and adjustable hardware for cabinet doors? Maybe you want more drawers that pull everything forward so there is less crouching and digging? These are all attainable wants.
5. You need a better layout for your growing family. If only one person fits in your work triangle, only one person can make dinner. Maybe you are cramped on counter space and you like to make cookies with the kids? Maybe your kitchen could really benefit from a breakfast island?
6. You want an entertaining space. It's unwelcoming, cramped and uncomfortable. Wouldn't an island be nice where people can congregate around on the outside of your work space? Additionally, great lighting can increase functionality and comfort within your kitchen.
Or your kitchen works well, but you hate the way it looks!
7. Let's talk aesthetics, do you walk into your kitchen and cringe at the outdated cabinets? Do you look at your stained countertops and wonder how do I even put food on here? Does your kitchen spark joy?
8. You want to sell your home one day. There is a lot of debate on whether you should update your kitchen before selling your home and I agree it can depend on your circumstances, your neighborhood and the market. A new kitchen may cause buyers to choose your house over another and may pay more for it as well!
Maybe you have good reason to remodel your kitchen but the next two reasons need to fall in place to make this dream possible.
9. Time.  Do you have time for a kitchen remodel? Don't assume this process will be a breeze. It takes a substantial amount of your time, even if you hire a contractor to do the majority of the work. You need to assess your wants and needs. You need to make the decisions.
10. Money.  Kitchen remodeling is expensive. From what I've researched, most projects go over-budget. Ours did! You need a lump sum of cash, with extra reserves. I would not recommend getting a loan unless you find yourself with reason one or two. You are paying a substantial amount of money already, don't add an interest payment to an already large purchase.
Should you remodel your kitchen? Here is why you should say no!
Again, let's start with the obvious reasons. You wouldn't do a kitchen remodel if you love your kitchen, but if that's the case, you probably wouldn't be reading this article. So let's talk about these other 10 reasons to not start a remodeling project.
1.Time. Planning out a full kitchen remodel can take up a lot of your valuable time. Not to mention making appointments with designers, contractors and inspectors. You may find yourself shopping for items, or returning items that were delivered broken. Your time is precious and this project needs to be worth all of it.
2. Money.  A kitchen remodel is very expensive. The national average minor kitchen remodel cost was $26,214 (see Cost vs. Value Report); and that's minor repairs, probably cosmetic. If you own a large home and want to change everything, you could spend upwards of $100,000. You need to have excess cash on hand for a remodel. If you don't have it, you don't do it. Start saving.
You have the time and money for a kitchen remodel, but…
3. You are clueless in what you want out of your kitchen. Now is not the time to be breaking down walls, and installing marble counter tops if you are not sure if you need more space or new beautiful (but risky) counter tops. Your family may be evolving and what you need now may not be what your family needs 5 years from now. Be sure to assess all aspects of your lifestyle before you consider designing your new dream kitchen.
4. There may be hidden issues awaiting to be found.  Your home may be old and you may not know all the issues it has until you open up drywall and peek inside. Maybe you remove your kitchen sink cabinet and find that the mushy floor below also needs replacing. Do you find asbestos or mold? Maybe you find a home for some grossly unwanted guests?
5. You cannot fathom living without a kitchen for an intolerable length of time. Kitchen remodeling will take roughly 6 to 8 weeks, but can take many weeks or months longer. You can create a temporary kitchen, as we did, or move into a temporary living arrangement elsewhere during the remodel. Eating out A LOT will add extra expense to your budget and you will yearn for a home cooked meal after a few weeks. You be the judge if this inconvenience is too much for you to start your kitchen project.
6. You are not ready to turn your home into a work zone. Kitchen remodeling is a dirty process, one that will fill your house with dust. Your neighbors might get curious as to why you have a large dumpster out front. And let's not forget the hideous temporary bathroom situated on the driveway in plain view for all to see.
You are not ready to deal with the stress of a kitchen remodeling project.
7. This process is exhausting. It will cause stress on close, personal relationships. You will be tested on how well you can compromise and come up with solutions together. You will need to make decision after decision knowing that changing your mind will cause added expense.
8. You are worried about buyer's remorse. Creating a kitchen that works for you is one of the best things about remodeling your kitchen, but what works for you, may not work for others. If you go with the classics, you will have more happier buyers when it's time to sell. But if you go with trendy or bold, you may be making changes when the time comes.
9. You are worried about interacting and working with other people. At the top of my list, was my skepticism towards other people coming into my home and doing quality work. You will need to have constant communication with your general contractor and may come in contact with other contractors along the way. You will expect that they do a high-quality job, that they finish the job, and that they listened to you and did the job how you asked them to do it. For some of us, trusting others can be very difficult.
10.Your circumstances are not ideal. Maybe your house is already the most expensive on the block; you likely wouldn't get a good return on investment remodeling your kitchen. Maybe, it's a sellers' market and you can still sell you home for top dollar without any updates. Or maybe you have your own reasons for not remodeling that I have not mentioned.
Conclusion
As you can see, there are many reasons to redo your kitchen and there are many reasons for you to not redo your kitchen. Your best chance at making this decision is weighing all your pros and cons and finding out what works best for you.
Should you remodel your kitchen? If the answer is yes, check out the Step by Step Kitchen Remodeling Guide. Saying yes is just the beginning. Keep doing research until you are confident in your choices and your decisions.
If the answer is no, that is okay too. There are many trends out there of just renovating your kitchen: making changes to the existing structures. You will find a plethora of information on Pinterest about painting existing cabinets. Or you can update lighting, cabinet hardware, faucets and of course appliances, your options are numerous.
I hope you have found this article helpful. Be sure to check out my other kitchen remodeling articles and enjoy your journey to make your house your home.
Helping you plan for tomorrow,
~H.
Interested in learning more about kitchen remodeling, the Step by Step Kitchen Remodeling Guide is only a click away.
Additional kitchen remodeling articles you may enjoy:
How long does a kitchen remodel take and what factors make it longer?
How to stay organized for a successful kitchen remodel.
Top 10 things to consider in your kitchen remodel design.