Completing a kitchen remodel can be exhilarating and stressful. You want the end product to look great, but also be durable down the road. Some budgets just cannot afford custom cabinetry and box cabinets have to suffice. But can they last the test of time?
Today, I am going to show you how easy it is to design and buy your own Klearvue kitchen cabinets. I'll give some tips on assembling them and share with you some of the accessories that give the cabinets a customized look and of course, the pros and cons.
Finding Klearvue Cabinets
Within the planning phase of my kitchen remodel, I traveled to a few big box stores to preview some kitchen showrooms. I looked for quality, aesthetics, and an affordable price. I stumbled upon a kitchen at Menards that immediately prompted me to take some pics of it.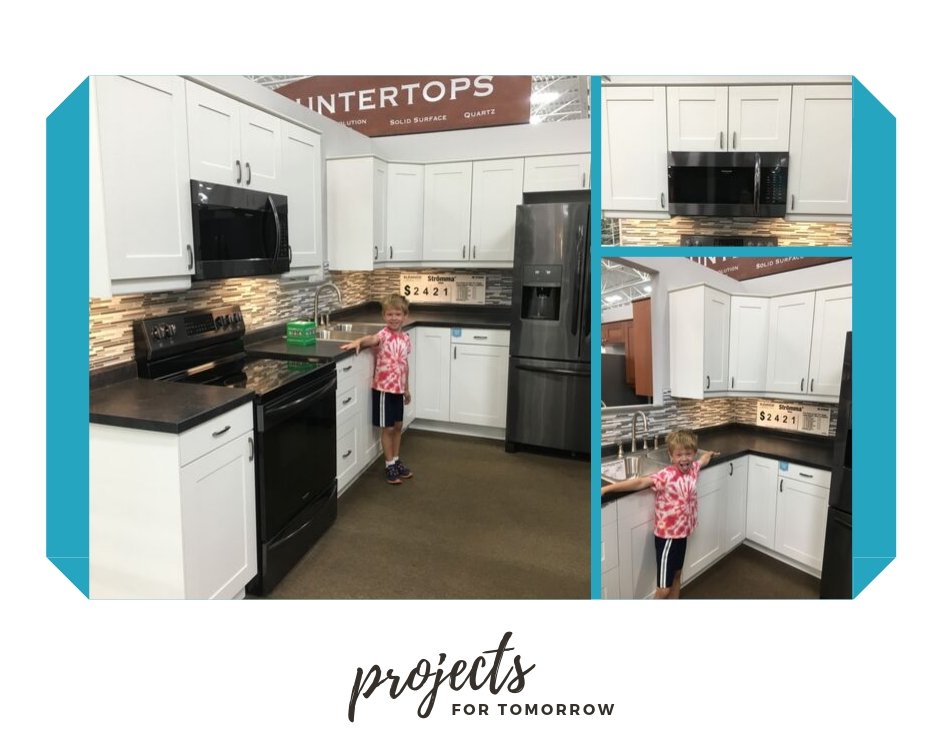 It was everything I was looking for in my price range. I went home and started creating a few design mock ups on Klearvue's website.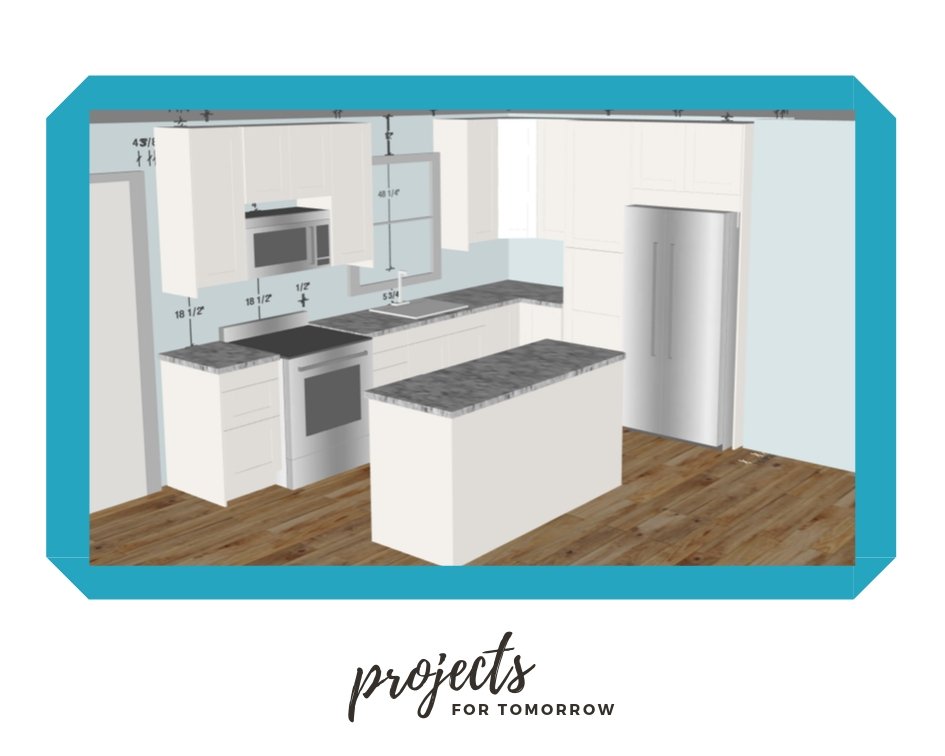 What is Klearvue Cabinetry?
Klearvue is a brand of box cabinets that can be found exclusively at Menards. They have 13 different options now. You can design your layout right on the U Create Cabinetry Planner Software, which is integrated with the Menard's website. For those of you on the coasts, Menards is a Midwest company, located in 14 states. But available to everyone on-line.
Menard's defines the cabinetry product as a modular cabinet system with customization in mind. With over 250 possible configurations to choose from, you have a lot of combinations at your disposal.
How Easy is it to Design your Layout?
With the U Create software, you start by specifying the dimensions of your kitchen. From there, you will add in the different sized cabinets and play around with layout until you have something that will work for you. If you need a little more help with your design considerations, you can check out my post, How to design your new practical kitchen.
Once you have completed your design, the software produces a convenient shopping list for you that lists out all the cabinets, doors, the molding (the extra trimmings), and hardware that you need.
Not tech savvy? Menards' cabinetry department can assist you with this program if needed.
Where do I Buy Klearvue Cabinetry?
There are two ways to purchase these cabinets: go into the store and design it on their computer, or design and purchase from your computer or mobile device from home. You don't need to go into the store to purchase the product.
Once you have completed your order, you will have two options for delivery. Pay a fee to have it delivered or go pick it all up. Either way, I recommend having all of your material before your project begins.
Another recommendation, be sure that your cabinets will fit into your space. Once your kitchen has been knocked down, draw out your layout on the sub-floor. You can see specifics on how to knock down your kitchen in my post, Homeowners Guide to DIY Kitchen Demolition.
It's amazing what you can see, once the layout is on the floor. You might just find out that the island you wanted was too big.
Fortunately, we were able to downsize our cabinet before cabinet installation day. I was able to go to Menards and exchange it. Every piece I needed was at the store! We switched out a 24 inch cabinet with an 18 inch one (for our island) so there would be more space for our dining room table.
How Easy are Klearvue Cabinets to Assemble?
Assembly
After you have opened up all your boxes, you can assess each piece for quality and make sure you have everything you need. Most of the cabinet is conveniently pre-assembled. However, if you purchase a pantry cabinet, that will be the first thing to put together on cabinet installation day.
Additionally, the drawers come in box kits and also need to be put together. The instructions are easy to follow, and each drawer takes at most 5 minutes to assemble. In my house, these were put together before installation day.
Installing the Boxes
We used the pantry cabinet as our starting point because we knew every other wall cabinet would need to match the height of this one. The pantry cabinet was 1 inch shy of 8 ft, so all our cabinets were mounted 1 inch from the ceiling.
One thing our contractor noted was how easy it was to adjust the base cabinet footings.
For you, once the pantry is assembled and resting in its home, you can work on the cabinetry to the left and right of the pantry. You will be using provided screws to attach the cabinets to the cover panels, to each other, and to the walls.
What are Cover Panels?
Cover panels are the outside edges of your cabinets and in my opinion, the most difficult part of the installation process. They come in sheets and give your cabinets a nice sleek look.
Some of the panels will need to be cut, while others come in the exact height you need. No need to worry about what cover panels to purchase, the software purchasing program automatically gives you the correct panels based on your design.
To help us install the cover panels square, we hung up one cabinet door as you can see in the picture below.
Doors and Trimmings
Once the cabinets are installed, you can add in the hinges and ultimately the doors. At the same time you can install the molding and toe kick on the top and bottom of the cabinets.
If you are more of a visual person, see the link to Klearvue's directions on how to assemble the cabinets.
Need to See More Pictures?
Day 1 of our cabinet installation looked like this. We were able to assemble the large pantry cabinet, and hang up the base and wall cabinets.
Day 2 of our cabinet installation looked like this. The installers (two of them) assembled the island cabinets and cover panels. Then one of them installed the doors, while the other custom cut the molding and toe kick material. This was all done in two days with myself and two contractors.
The last steps, which we did on our own over the next couple of weeks, were to install the drawer slides for the drawers, the hardware, and the shelves. See my post on how to DIY install your own hardware here.
What are the Pros of Klearvue Cabinetry?
Here are my reasons for why you should use Klearvue cabinetry:
You have custom options when designing your layout (not a million choices, but enough to make something that works for you.)
One design option I like: you can design some "hidden" drawers, for things you don't use very often.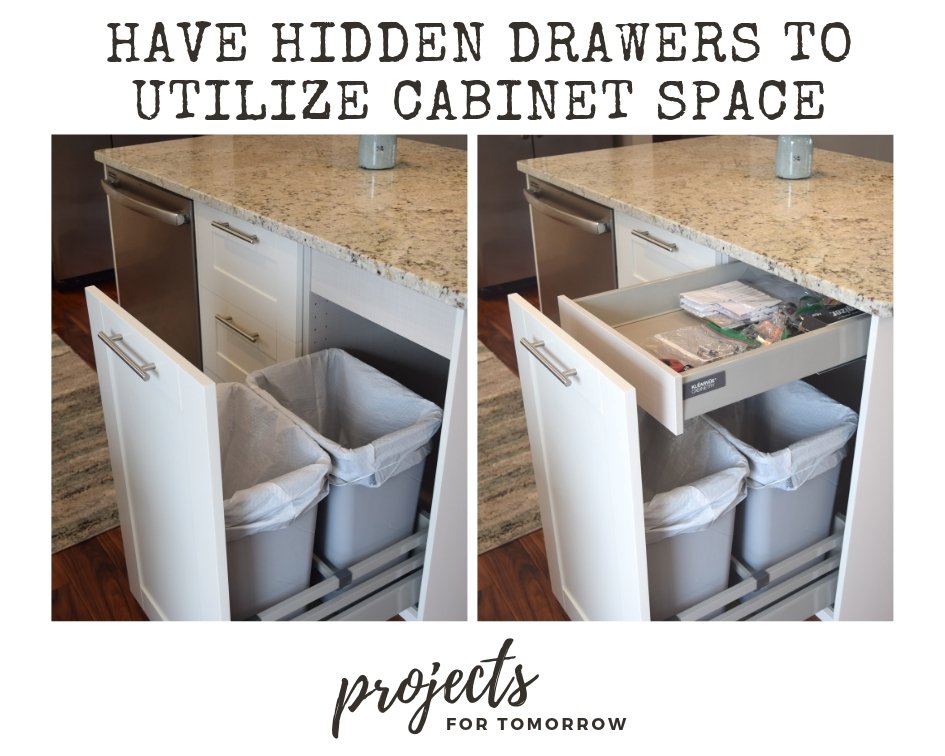 The doors and drawer faces are changeable (if the door breaks or gets a big scratch in it, you can replace it.)
You can add more drawers or shelves to your design at a later time.
The outside of the doors are easy to clean. Just use a slightly damp paper towel to clean up the mess. Or as I've found, use your fingers to clean off any oils.
The bottom feet are insanely cool and even though they should be set to a default height, they are easy to use.
The design software, I found, was self explanatory. I didn't need to read a bunch of directions to design my kitchen.
The cabinets feel sturdy and are strong enough for granite.
The STROMMA design, that I picked out, is a clean design and very sleek.
Menards provides a paint match to cover up dings from installation and general use.
What are the Cons of Klearvue Cabinetry?
Every cabinetry option will have some downsides. Here are my reasons for why you should not use Klearvue cabinetry:
The cover panels could be better quality. They easily chip at the cut edge. I have combated this by painting the chipped areas or adding the white band (which you can purchase separately), over that particular area.
The inside of the doors are a little harder to clean. They are not coated with the same easy to clean coating as the outside of the door.
More physical labor is needed than if you were to have purchased fully assembled cabinets. You still need to assemble the pantry cabinet and all the drawers.
The hardware that came included with the molding is slightly below grade. It's fairly malleable, but easily replaceable.
If you do not live in the Midwest, you may not be in close proximity to a Menards. There is always a chance that your cabinets can scratch or break once they leave the manufacturer. Unfortunately, I had to return a few broken pieces to the store and get replacements. This is a big inconvenience if you live 50+ miles away.
And lastly, as typical of box cabinets, not all options are included. You may be using filler material, to fill in the spaces that the cabinets did not use.
What Makes Klearvue Cabinetry Customizable?
What I like about the Klearvue line is that everything is adjustable. You can exchange a regular door with a door with see-through glass. Or if you need more shelving, you can just buy another one. There are options open to you even after you've finished installing your cabinets. You wouldn't get this flexibility or convenience in custom home cabinets.
Each cabinet has a pegboard like quality, with little holes on the sides to give you the most options. Don't like the drawer here? Unscrew it and put it up higher, or lower; you can set it to get the most value out of each and every piece of your cabinetry.
Once the cabinets were installed, I was able to play around with different spots for the internal drawers. I could place them at the heights that I needed, utilizing every inch of space. Storage was one of the many reasons I took on this kitchen remodel in the first place!
Conclusion
I hope you've learned how easy it is to design a kitchen with Klearvue cabinetry, what to expect when assembling them, and the pros and cons of this particular brand.
While I'm not an employee of Menards, I can recommend their Klearvue brand to homeowners like you looking for the best option in your price range.
The key to durability, (in other words, how to make it last longer?), is maintenance. If you take care of your product, it will take care of you!
It's a lot of information, but at the end of the day, you want to be comfortable with your cabinet decision. These cabinets will be used every day and they are intended to help you, not hinder you.
What are you looking for in affordable cabinetry?
Helping you plan for tomorrow,
~H
Missed the links above? Here are some great places to go next:
How to Design Your New Practical Kitchen.
Homeowner's Guide to DIY Kitchen Demolition.
How to Install Knobs and Pulls in your Kitchen.
How to Knock Down your Old Kitchen and Start Over. Our scrapbook!
Step by Step Kitchen Remodeling Guide.